Latino Theater Company presents the world premiere of the multilingual comic drama Tacos La Brooklyn written by Joel Ulloa for a September 30 opening at The Los Angeles Theatre Center.
Chino, a young and ambitious Korean American who grew up in a foster family on Los Angeles' Eastside, hopes to grow his successful taco stand, "Chino's Underground Tacos," into a brick-and-mortar restaurant. When Yesenia Tapia, a Mexican-American social media influencer, accuses Chino of cultural appropriation and pandering to a gentrifying neighborhood, he must convince the community of his cultural authenticity in a multi-faceted and complicated city.
With its vibrant 'L.A. River Night Market' setting and easy flow between three languages (English subtitles provided), Tacos La Brooklyn looks at cultural identity, interracial dynamics, gentrification, street vendors, social media and cancel culture — all through a distinctly Los Angeles lens.
"There's a huge crossover between Latino and Asian cultures on L.A.'s East side," Fidel Gomez, Director of Tacos La Brooklyn says, recalling a recent commemoration event for the 80th anniversary of the Zoot Suit Riots held in Little Tokyo. "It was attended not only by Chicanos but by Japanese "Cholos" and lowrider enthusiasts — a subculture touched on in the play. To be able to tell a story from multiple cultural viewpoints is really exciting."
<!-article_inarticle_2-->
"I wanted to celebrate the different neighborhoods of L.A. through street vending, language, and the overlap between cultures that we often experience in our city," explains Ulloa. "In the end, this is a story about exploring identity and how we find (or choose) our family."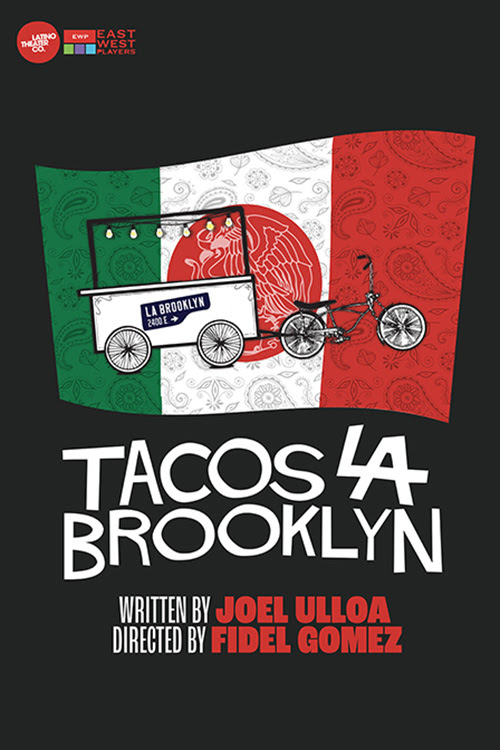 The creative team includes scenic designer Natalie Morales; lighting designer Pablo Santiago; sound designer John Zalewski; projection designer Hsuan-Kuang Hsieh; and costume designer Maria Catarina Rodrigues. The assistant director is Nicolas Ruano. The stage manager is Alexa Wolfe assisted by Valerie Vega.
Tacos La Brooklyn opens on Saturday, Sept. 30 at 8 p.m., with performances thereafter on Thursdays, Fridays and Saturdays at 8 p.m. and Sundays at 4 p.m. through October 29. Six preview performances take place from September 21 through September 29 on the same schedule. Tickets range from $22–$48, except opening night which is $58 and includes pre- and post-performance receptions, and previews, which are Pay-What-You-Will starting at $10.
Tacos La Brooklyn was developed by Latino Theater Company's Circle of Imaginistas playwriting group and produced in association with East West Players. Fidel Gomez directs the world premiere of performances will continue through Oct. 29, with six low-priced previews taking place from September 21 through September 29.
<!-article_inarticle_3-->
The Los Angeles Theatre Center is located at 514 S. Spring St., Los Angeles, CA 90013. Parking is available for $8 with box office validation at Joe's Parking structure, 530 S. Spring St. (immediately south of the theater).
Produced in association with Latin Heat