The Lede
Building undersea windmill platforms may hurt whales, dividing environmentalists over priorities — sea life or climate change?
Video of the Day
Rivian CEO Scaringe discusses rising competition in EV market and strong demand for their vehicles.
Far-right conservatives and Democrats join forces to remove McCarthy, raising questions about leadership in a polarized Congress.
SightBit's AI-powered lifeguard technology detects drowning patterns and potential hazards
The Heat Initiative campaigns to weaken Apple's privacy protections, sparking a debate over surveillance and privacy rights.
Matrixport's Benjamin Stani proposes fusion of T-bills with stablecoins, reshaping finance and empowering investors
New research suggests that regular tea consumption is associated with a significant reduction in the risk of  type 2 diabetes.
Emergency workers exposed to radiation during Fukushima accident have a 47% higher chance of developing diabetes, study finds.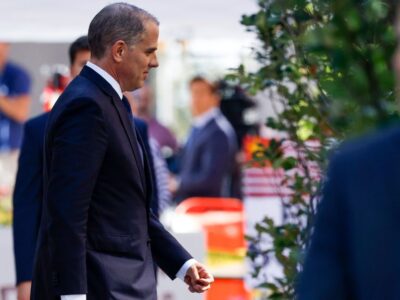 Speculations arise as premier lawyers' fees could reach $1 million per month
Pet owners find caring for their fur pals more stressful than managing relationships or parenting
Rev. Hannah Cooper wears personalized collar, inspiring other vicars and raising funds for charity.
Valerie Leon, star of 'Never Say Never Again' and 'The Spy Who Loved Me,' to raise money for charity.
Mary Trump criticizes media's focus on Biden's age, highlights Trump's fitness for office in 2024 election.
Government shutdown averted, but compromise on Ukraine aid raises concerns
Scott Hall's cooperation could implicate Sidney Powell and provide insights into conduct of Trump co-defendant Jeffrey Clark.
Pilots must return to service or risk being removed from the IAF ahead of international exercise.
Finance Minister Sigrid Kaag invited to Kristallnacht commemoration despite funding Palestinian terror group
Hezbollah leader warns against dangerous step and abandonment of Palestine
Man's memorial balloon travels 500 miles, forging lifelong connection with Dutch couple
Cars without a playful moniker are deemed to be 'missing something,' says poll commissioned by Volkswagen
BT Group partners with AbilityNet and lexicographer Susie Dent to create a guide simplifying commonly misunderstood online terms for over-65s.
It backs the 'outside in' idea that states that scales migrated into the mouths of ancient vertebrates. 
Such substances are bad for people's health over the long run, medical researchers in Austria say.
The estimated size of the bird's eyeball suggests it was active during the day, unlike its modern nocturnal relatives.
Google's Chromebook Plus offers AI-powered features, seamless file access, and exclusive software partnerships.
Preliminary data reveals decrease in capital raised but hints at positive trend in seed funding and foreign investor volume.
Meta's AI assistant brings real-time online results and visual generation, partnering with Microsoft's Bing.
Code reference in iOS 17.1 Beta 2 sparks speculation about next-gen stylus features.
FTX founder faces charges of multi-billion dollar fraud, trial outcome to impact industry and legislation.
Mezrich's upcoming book promises a controversial and wild ride, following his success with GameStop saga.