President Biden approved a major disaster declaration for Vermont Thursday following the deadly flooding that inundated parts of the state at the start of the week and more heavy rainfall on the way.
"Storms dropped more than three months' worth of rain across parts of the Northeast on Monday, including in Vermont where parts of the state witnessed one of the worst floods in nearly 100 years. More than 200 people were rescued in Vermont alone, and the state facilitated over 100 evacuations," said AccuWeather.
Waters began to recede Tuesday revealing the extent of the damage before more rain arrived Wednesday. The major disaster declaration will free up federal funding for the affected counties of Chittenden, Lamoille, Rutland, Washington, Windham and Windsor, according to the White House.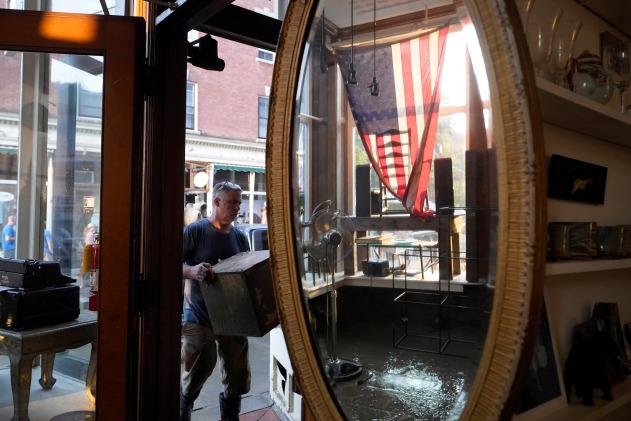 Despite the retreating water, at least one person in the state lost their life to the dangerous floodwaters Wednesday. Stephen Davoll, 63, of Barre City, Vermont, died as a result of a drowning accident in his home, according to the Vermont Department of Health.
"Yesterday, the state, unfortunately, confirmed its first fatality related to flooding," said Vermont Gov. Phil Scott at a press conference Thursday morning. "I want to express my sincere condolences to the Davoll family, Stephen's friends, and my hometown of Barre for this heartbreaking loss."
Rainfall amounts on Wednesday around the Barre-Montpelier area were generally between 5-7 inches, according to AccuWeather Meteorologist Isaac Longley. Even more rainfall doused Calais, north of Barre, where "a whopping" 9.20 inches of rain fell.
"This heavy rainfall on top of already saturated soil is why we saw the historic flooding in Vermont," said Longley.
While parts of Vermont may experience dry weather Saturday, the wet weather is set to return Sunday with widespread showers and thunderstorms that could unleash heavy rainfall.
"The airmass on Sunday will be more on the tropical side, meaning that a lot of rain can fall from these showers and thunderstorms in a short period of time," said Longley. "This will be major cause for concern with the recent flooding that just took place and the rivers and streams still running high. Another round of heavy showers and storm could return on Tuesday, so there is no end of the wet weather in sight, unfortunately."
With the next few days or so of dry weather between the downpours, Commissioner Jennifer Morrison warned Vermonters in the press conference Thursday not to let their guard down.
"It looks like we will have a day or two of decent weather in most parts of the state. It's going to be easy to think that we're out of the woods, yet several of our communities are still reeling from last night's events," said Morrison. "Candidly, the high winds, the rainfall [and] thunderstorms complicated an already devastating situation locally in many communities. So please remember our neighbors."
Produced in association with AccuWeather
Edited by Judy J. Rotich and Newsdesk Manager
"What's the latest with Florida Man?"
Get news, handpicked just for you, in your box.