Justina Machado plays the title role of Dolores Roach in this mesmerizing and bone-chilling tale of betrayal and cannibalism in the Amazon series The Horror of Dolores Roach which grips viewers with its dark and twisted narrative.  
Machado delivers a remarkable performance, showcasing her versatility as an actress and bringing depth to the complex character of Dolores Roach. Whether she is playing a disturbing and horrifying serial killer, as in this series, or a single mom in the 2017 comedy hit series One Day at a Time, (where she was named the "One of the Most Dynamic Actresses on TV" by Harper's Bazaar magazine), Machado always delivers with exceptional acting skills.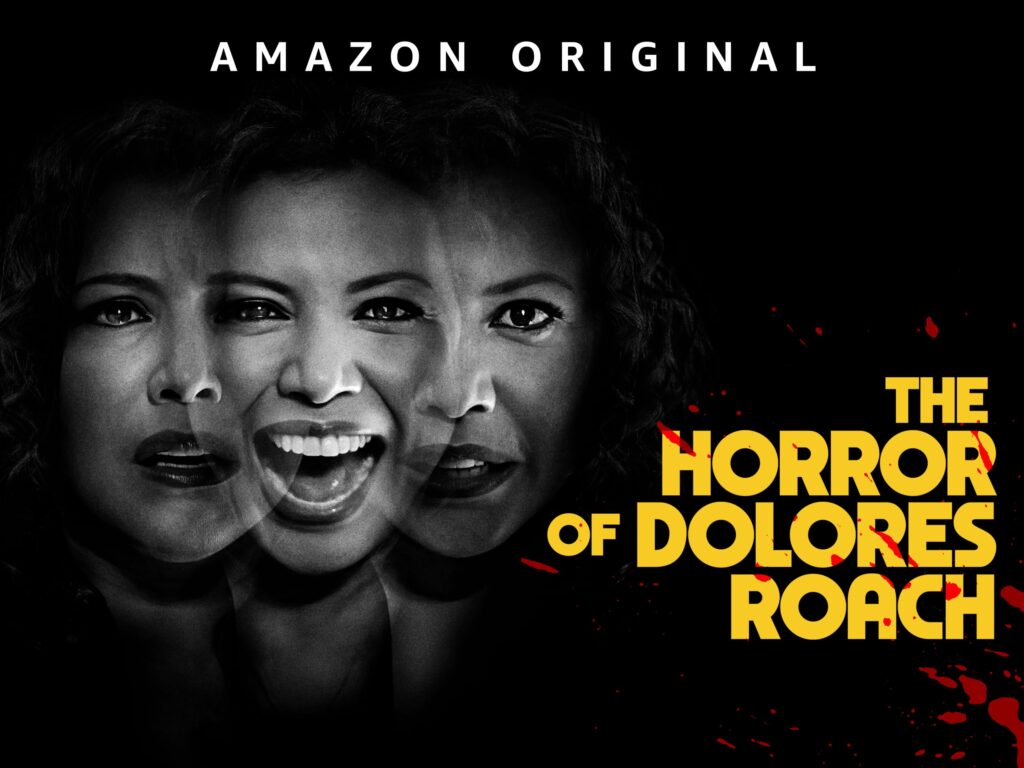 The series follows Dolores Roach, a woman recently released from a 16-year prison sentence, only to return to a gentrified neighborhood that is unrecognizable to her. Desperate to reunite with her former boyfriend, the neighborhood drug dealer, Dolores expects gratitude for not exposing his involvement in drug dealing. However, as the story unfolds, Dolores discovers that she was set up and seeks revenge, leading her down a path of murder, cannibalism, and twisted reasoning.
Machado seamlessly navigates the nuances of comedy and horror, delivering a chilling performance that keeps viewers simultaneously drawn to and frightened of her character. Dolores' relationship with Luis Batista, played by Alejandro Hernandez, adds an eerie and unsettling dynamic to the series. The twisted romance between a killer and a cook becomes a central element, with Luis aiding Dolores in disposing of her victims – in a most delicious way.
The Horror of Dolores Roach cleverly employs Dolores' internal narration, allowing viewers to understand her twisted justifications for her heinous acts. The series is a dark and horrifying tale that tackles themes of betrayal, mental illness, and the consequences of one's actions. It hooks viewers from the beginning, likening it to the chilling atmosphere of "Sweeney Todd", making Machado's portrayal of Dolores Roach captivating and making it impossible not to both fear and empathize with her.
Throughout the series, the line between good and evil becomes blurred as Dolores seeks revenge against those who wronged her. The narrative is gripping and relentless, with each episode deepening the viewers' connection to Dolores' twisted world. While the themes of drugs, cannibalism, and mental instability may be unsettling for some, they serve as integral elements that contribute to the atmosphere and the character's motivations.
Written and directed by Aaron Mark, who draws inspiration from his experience as a self-proclaimed "gentrifier" in Washington Heights, delves into the darkest corners of human nature. Mark originally crafted the story for Panamanian actress Daphne Rubin-Vega as a play, which later gained popularity as a podcast and ultimately made its way to television. The rights to the TV series were acquired by Jason Blum of Blumhouse Productions, and also executive produced by Gloria Calderon Kellet through Glo Productions.
The Horror of Dolores Roach is an unforgettable and addictive TV series that demands attention. Justina Machado's outstanding performance, combined with Aaron Mark's skillful storytelling, creates a truly gripping and haunting experience. Brace yourself for a journey into the depths of darkness as you witness Dolores Roach's descent into evil and the twisted reasoning behind her actions.
Originally created by Aaron Mark as a one-woman play, Empanada Loca for Panamanian actress Daphne Rubin-Vega, Mark created, wrote, and directed the original podcast and penned the series pilot script. The new series comes from Mark, who also serves as co-showrunner and executive producer with Dara Resnik, alongside executive producers Daphne Rubin-Vega; Jason Blum, Chris McCumber, Jeremy Gold, and Chris Dickie for Blumhouse Television; Dawn Ostroff, Mimi O'Donnell, and Justin McGoldrick for Spotify; Gloria Calderón Kellett for GloNation Studios; and Roxann Dawson, who also directed the pilot.
Produced in association with Latin Heat
Edited by Alberto Arellano and Joseph Hammond
"What's the latest with Florida Man?"
Get news, handpicked just for you, in your box.