On top of chasing tornadoes, extreme meteorologist Reed Timmer has also been chasing and intercepting hurricanes for nearly 25 years.
Since 1999, Timmer has covered dozens of hurricanes and tropical storms as they crashed ashore. Timmer has gone inside the eye of the storm – literally – and witnessed these incredible forces of nature in a way that few others would dare attempt.
From Hurricane Floyd in 1999 to Hurricane Ian in 2022, Timmer recently recounted his five most memorable hurricane interceptions.
On Oct. 10, 2018, Hurricane Michael made landfall near Mexico Beach, Florida, as a monstrous Category 5 hurricane. Michael was one of the most destructive and powerful storms in recorded history. The storm had a minimum central pressure of 27.13 inches of mercury (918.73 millibars) when it made landfall, which made it the third-most intense U.S. landfilling hurricane – right behind Katrina in 2005 and Andrew in 1992.
<!-article_inarticle_2-->
According to Timmer, this was the most powerful hurricane he's ever experienced.
"I rode it out in my Subaru right in the middle," Timmer said as he described what it was like feeling the winds go up and over his vehicle.
Michael was originally listed as a Category 4 hurricane at landfall, but a post-storm analysis conducted by forecasters with the National Hurricane Center (NHC) determined Michael slammed ashore with a wind intensity of 160 mph, which is consistent with Category 5 strength.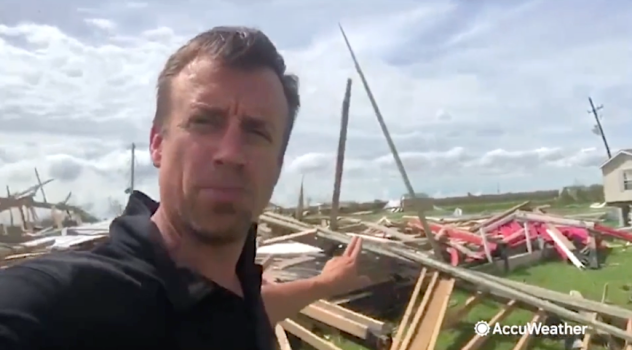 After rapidly intensifying hours before making landfall, Hurricane Laura slammed into the coast of Louisiana on Aug. 22, 2020. Laura brought destructive 150-mph sustained winds as it barreled ashore as one of the strongest hurricanes in Louisiana's history.
<!-article_inarticle_3-->
"Hurricane Laura made landfall in Cameron Parish, Louisiana, and slammed Lake Charles head-on," Timmer said, explaining that the eyewall moved right over the Lake Charles area.
The eyewall is just outside the eye and is the most intense part of a hurricane. The strongest winds are found within the eyewall.
Footage from Timmer during the hurricane showed buildings being gutted in downtown Lake Charles by Laura's hellacious winds. Destructive winds from the storm knocked the radar that services that region out of service.
Hurricane Harvey made landfall as a Category 4 hurricane on Aug. 25, 2017, near Corpus Christi, Texas. The storm stalled over the middle of the Texas coast and dropped more than 40 inches of rain across the region.
The highest rainfall total from Harvey was measured in Nederland, Texas, where 60.58 inches of rain fell.
Harvey was the most significant tropical cyclone rainfall event in recorded United States history, both in scope and peak rainfall amounts, according to the National Oceanic and Atmospheric Administration (NOAA).
The record-breaking rainfall led to a "megaflood disaster," according to Timmer. Entire stretches of highways were submerged underwater.
"That was a very intimidating feeling," said Timmer. "Being trapped right in downtown Houston and just seeing the flooding disaster play out around us in the days after [Harvey made landfall.]"
When he was just 25 years old, Timmer intercepted Hurricane Katrina as it barreled down on the Louisiana coastline.
Katrina made its first landfall along the southeastern Florida coast on Aug. 25, 2005, as a Category 1 hurricane. It then traveled across the Gulf of Mexico, strengthening into a robust Category 5 hurricane.
Katrina made a second landfall along the southeastern Lousiana coastline as a Category 3 hurricane on Aug. 29, 2005. It then continued eastward and made its third and final landfall as a Category 3 hurricane along the Mississippi coastline.
After the levees surrounding New Orleans were breached by floodwaters from Katrina, the city experienced extensive flooding. The flooding continued even after Katrina's landfall. Two days after landfall on Aug. 31, at least 80% of the city was underwater, according to the NHC.
"The floodwaters and the storm surge of Hurricane Katrina were very intimidating, very intense" Timmer recalled. "You had water that was about 15 feet deep."
Just over 18 years after Hurricane Katrina made landfall, Timmer intercepted the most extreme hurricane he's ever experienced. With more knowledge and better technology, Timmer was stationed on Pine Island, which is a barrier island off Florida's west coast.
"Hurricane Ian is the top most extreme hurricane chase I've ever had in my career," Timmer said.
Hurricane Ian made landfall as a powerful and destructive Category 4 hurricane on the barrier island of Cayo Costa, Florida, on Sept. 28, 2022.
"I was getting that raw Category 4 to Category 5 eye wall just ripping off the Gulf of Mexico," Timmer said.
Top wind gusts recorded near landfall far exceeded 100 mph. The highest wind gust was in Grove City, Florida, where a 128-mph reading was measured by a WeatherFlow weather station. Other areas recording gusts over 120 were recorded on Captiva Island at Redfish Pass and the Punta Gorda Airport.
On top of the hellacious winds, Ian brought a deadly storm surge to Florida's west coast. Barrier islands were completely inundated with water as the storm surge climbed to 15 feet in some places.
The combination of storm surge and hurricane-force winds knocked out the bridge to Pine Island, which stranded everyone, including Timmer, who stayed on the island during the storm.
"I got to experience the 15-feet-plus storm surge, a couple of days of survival mode on Pine Island as well as the bridge was completely knocked out," said Timmer.
A post-storm analysis from the NHC found that the peak winds in the eyewall of Hurricane Ian reached 160 mph while traveling across the Gulf of Mexico, meaning the storm briefly obtained Category 5 status before it crashed ashore.
Produced in association with AccuWeather