Warsaw Slams Noa Kirel's Shoah Comments
Israeli pop sensation Noa Kirel's remarks on the Holocaust drew an outspoken response from Poland.
Israeli pop star Noa Kirel's comments on the Holocaust following her third-place finish at the Eurovision Song Contest in Liverpool last week elicited a strong reaction from Poland and reopened a debate about the country's role in the Jewish genocide. 
Kirel, in an interview with Ynet after the competition concluded, said the maximum 12 points given to her by the Polish jurors for her performance of "Unicorn" was a "victory" after many relatives on her father's side of the family were murdered in the Holocaust. 
"I feel like a winner. For me, the fact that I received the most points from Poland, after what my family went through there during the Holocaust, was a real moment of triumph. My greatest success was that Israel was noticed, we left a mark, I made my country proud of me—these are my greatest achievements," she said.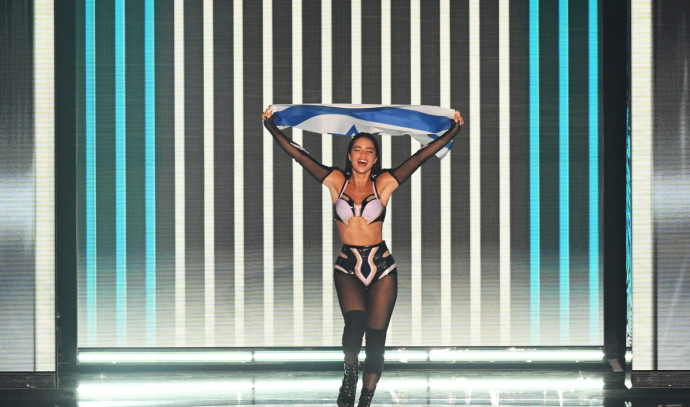 The 22-year-old IDF veteran from the central Israeli city of Ra'anana visited the Auschwitz concentration camp in Oświęcim in 2019 with her father, Amir, where 220 members of her family were murdered by the Germans and their helpers. Kirel's mother, Ilana, is of Moroccan Jewish descent. 
 An immediate reaction came from Warsaw, where the government denies complicity in the genocide, blaming the Germans entirely and portraying Poles as victims. "Does this statement reflect the level of education about the Holocaust in Israel? Do young people in Israel think that the Holocaust was caused by Poland, over which a young Israeli citizen can achieve a moral victory after many years, or what?" Polish parliament member Anna Maria Żukowska tweeted in comments on Friday directed at the Israeli embassy. 
Polish Deputy Foreign Minister Paweł Jabłoński on Saturday said that Kirel would be invited to Poland for an official visit "to understand why she thinks about our homeland in this way and to explain why [her comments] are painful to us." Kirel should "see with her own eyes the places where Nazi Germany committed cruel crimes against Poles and Jews in our country," Jabłoński added. 
Diplomatic ties between Israel and Poland were recently restored, and Israeli youth trips resumed after a years-long crisis due to Poland's government enacting laws that were seen by Israel as whitewashing Poles' role in the Holocaust and banning claims by Holocaust victims and their relatives for restitution of seized property.
 Yad Vashem welcomed the renewal of Israeli youth trips to Poland for Holocaust education while at the same time stressing the need to maintain "complete historical accuracy" over the European country's mixed role during the Shoah. Historians take a more nuanced approach to Poland's role in the Holocaust, highlighting acts of resistance and helping Jews while also documenting cases of complicity and antisemitism.
Produced in association with Jewish News Syndicate
"What's the latest with Florida Man?"
Get news, handpicked just for you, in your box.