Fragile Gaza Truce Holds As Israeli Starts To Ease Restrictions
Following a ceasefire mediated by Egypt, the IDF started to relax restrictions on communities in the Gaza Envelope on Sunday.
The Israel Defense Forces began to ease restrictions on Gaza Envelope communities on Sunday following an Egyptian-brokered ceasefire between Israel and Palestinian Islamic Jihad that went into effect on Saturday at 10 p.m. 
A few rockets were launched at Gaza-area communities in the hours after the ceasefire, with the last Red Alert sirens sounding in Ein HaShlosha and Nirim at 11:11 p.m. One rocket was intercepted and the other landed in an open area, according to the IDF. The Israeli military announced close to midnight that it was striking terrorist targets in Gaza in response to the rockets. Roadblocks were opened in certain communities near Gaza on Sunday morning at 6 .am., following a situation assessment by the IDF.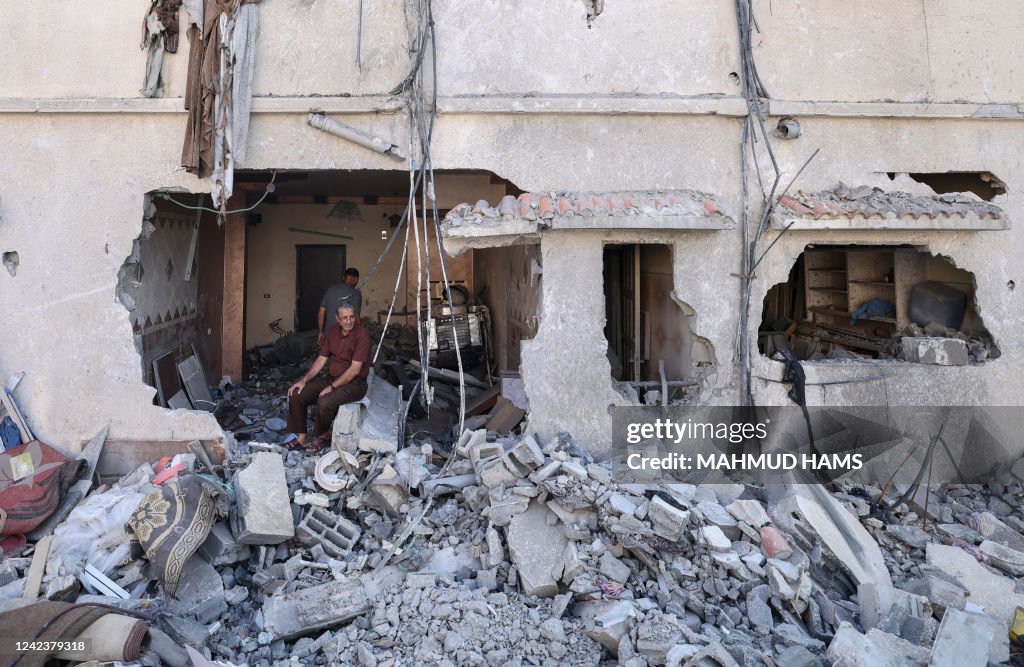 The remaining restrictions in effect for southern communities were scheduled to be lifted at 12 p.m. Head of the Coordinator of Government Activities in the Territories, Maj. Gen. Ghassan Alian, announced the Erez and Kerem Shalom crossings from Israel to Gaza would be reopened on Sunday, and Israeli media reported that the maritime space around Gaza was also expected to reopen.
 "Operation Shield and Arrow" saw five days of fighting between Israel and PIJ terrorists, who launched more than 1,250 rockets at the Jewish state, with the Israeli military killing six PIJ leaders and destroying terrorist infrastructure in nearly 400 targeted strikes across the Strip. As of Saturday evening, the IDF reported 373 rocket interceptions by Israel's aerial defense array, along with 221 PIJ rockets that failed to cross the border and came down inside Gaza. 
The Israeli military on Thursday accused PIJ of killing four Gaza civilians with failed rocket launches. According to Israel's Magen David Adom, two people were killed by rocket fire in Israel—an 80-year-old woman in Rehovot whose apartment building took a direct hit, and a 35-year-old male resident of Gaza who was struck in Shokada in the Sdot Negev Regional Council. A total of 30 other people were wounded, including another Gaza resident, who remains in serious condition. A total of 45 people were treated for anxiety by MDA medical personnel.
 According to the Palestinian Center for Human Rights, the death toll in Gaza stood at 33, including 15 civilians, while 147 were wounded. "National Security Council Director Tzachi Hanegbi, on instruction from Prime Minister Benjamin Netanyahu, thanked Egyptian President Abdel Fattah el-Sisi and expressed the appreciation of the State of Israel for Egypt's intensive efforts to secure a ceasefire," the Israeli Prime Minister's Office said in a statement. 
"The NSC director made it clear that Israel's acceptance of the Egyptian initiative means that 'quiet will be met with quiet', and that if Israel is attacked or threatened, it will continue to do everything that it needs to in order to defend itself," the statement continued. 
The United States government also thanked Egypt for its role in brokering the ceasefire and expressed appreciation to Qatar. "The United States welcomes tonight's announcement of a ceasefire between Israel and Gaza-based militants brokered by the Egyptian Government after nearly five days of fighting," White House Press Secretary Karine Jean-Pierre said in a statement. "U.S. officials worked closely with regional partners to achieve this resolution to the hostilities to prevent further loss of life and restore calm for both Israelis and Palestinians. We are grateful for the critical diplomatic efforts of President Abdel Fattah El Sisi and senior Egyptian officials, as well as Amir Sheikh Tamim Bin Hamad Al Thani of Qatar." 
The U.S. State Department also commended Egypt and Qatar for their roles in fostering the ceasefire. State Department Spokesperson Matthew Miller said that Secretary of State Antony Blinken spoke with Qatari Foreign Minister Mohammed bin Abdulrahman Al Thani on Saturday to thank him "for Qatar's partnership and important efforts to de-escalate violence throughout the recent hostilities." Miller reaffirmed Washington's "ironclad commitment to Israel's security, as reflected in our ongoing support for Iron Dome and other Israeli missile defense systems. We will remain engaged with our partners to promote calm in the weeks and months ahead."
Produced in association with Jewish News Syndicate
"What's the latest with Florida Man?"
Get news, handpicked just for you, in your box.