At least 15 states will be at risk of an outbreak of violent thunderstorms that will unleash everything from damaging winds to tornadoes on Friday, AccuWeather meteorologists warn. The area highlighted by forecasters is a massive swath of the country that extends from Texas to Alabama in the South to areas farther north such as Wisconsin and Michigan.
The AccuWeather forecast team raised Friday's risk of severe weather from moderate to a high level prior to the middle of the week, a sign of growing concern for the potential damage the storms could cause.
"While all modes of severe weather are likely during Friday's outbreak, there is a likelihood of widespread damaging winds from the storm with at least several tornadoes likely to be on the ground," AccuWeather Chief On-Air Meteorologist Bernie Rayno said.
According to the National Weather Service's Storm Prediction Center, more than 65 million Americans are at risk of some form of severe weather on Friday.
<!-article_inarticle_2-->
Major cities that are likely to be hit with severe thunderstorms capable of generating a tornado include St. Louis, Chicago, Indianapolis, Little Rock, Arkansas, and Memphis, Tennessee. As the storms approach and push through the major metro areas, Federal Aviation Administration officials will likely issue ground stop orders on all flights.
In addition to the likelihood of damaging wind and the possibility of a tornado in the strongest storms, there is the potential for large hail, frequent lightning strikes and brief torrential downpours as well.
"The severe storms will approach and swing through the Chicago metro area sometime from 5-10 p.m. on Friday, which is an extremely busy time for airlines and vehicle traffic as people begin their weekend journeys and end their weekday activities," AccuWeather Meteorologist Brandon Buckingham said.
The storms will likely push through St. Louis on Friday afternoon but may not hit Memphis and Indianapolis until well after dark.
<!-article_inarticle_3-->
A potent storm from the Pacific will re-energize after it crosses the Rockies on Thursday. The first few severe thunderstorms are likely to erupt in portions of Nebraska and Kansas late in the day and linger into Thursday night. These first storms have the potential to bring the full spectrum of severe weather but are likely to be isolated in nature.
Before any type of squall line forms, some individual storm cells are likely to rotate. It is these discrete storms that will bring the greatest risk of tornadoes. But even after a squall line develops, individual thunderstorm cells within the line, and any storm that forms ahead of the advancing line, can spawn a tornado.
The risks of tornadoes, damaging straight-line wind gusts and torrential downpours will extend well beyond the daylight hours on Friday as the storms advance across the lower Great Lakes and the Ohio and Tennessee valleys prior to reaching the western slopes of the Appalachians.
Forecasters urge residents and visitors in the path of the storms to keep up to date on weather bulletins through the nighttime hours.
<!-article_inarticle_4-->
Even where tornadoes do not strike, the force of the wind in the storms will be strong enough to push over poorly rooted trees and break off large tree limbs. As a result, there could be widespread power outages, incidents of property damage and blocked roads. In addition, the winds could blow over trucks and significantly damage mobile homes.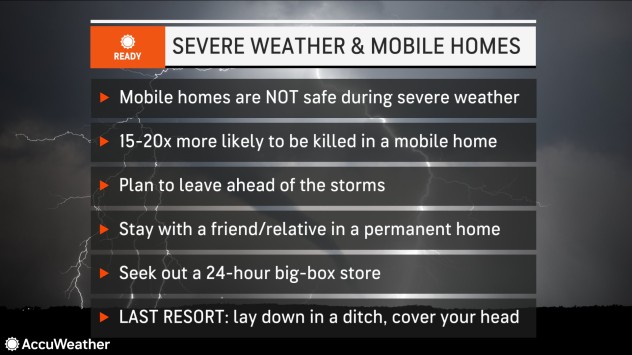 The fast-moving storms are unlikely to bring enough rain to renew flooding problems on the secondary rivers from much of the Mississippi Valley to the Ohio and Tennessee valleys. Many secondary rivers reached minor to moderate flood stages after last week's deluge but were already receding as of Wednesday. Still, some urban and flash flooding cannot be ruled out in poor drainage areas and along small streams.
Some secondary river flooding could occur from southeastern Minnesota to portions of central and southern Wisconsin and part of the Lower Peninsula of Michigan. A period of heavy rain is possible for locations where the ground is saturated from prior storms that dropped heavy snow during the winter
The same storm system responsible for the upcoming severe weather will produce a band of heavy snow and possible blizzard conditions from parts of the central Plains to the upper Great Lakes region from Friday to Saturday.
Along with the likelihood of potent thunderstorms, high winds, power outages and property damage can occur from southeastern New York and southern New England to portions of the Carolinas.
Produced in association with AccuWeather