A new round of severe thunderstorms, including some capable of producing tornadoes, will rumble across the southern United States from Wednesday to Thursday night, AccuWeather meteorologists say. Areas at risk for this week's round of storms include some of the same cities and towns that were hit hard by damaging and deadly severe weather just one week earlier.
The first 15 days of January 2023 have been incredibly busy in terms of the number of tornadoes.
"As of mid-month, there have been 117 reports of tornadoes so far this January, which compares to an average of 39 twisters for the entire month," AccuWeather Long-Range Meteorologist Brandon Buckingham said. The actual number of confirmed tornadoes is subject to change pending further official investigation by National Weather Service storm survey crews.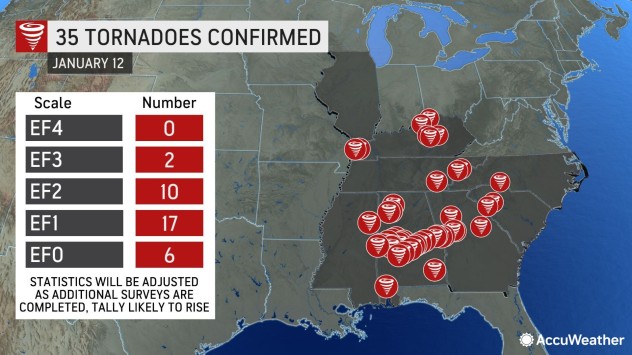 A developing surge of warm air will likely be enough to again give storms more of a boost than what would typically occur in the winter. Meanwhile, the storm system will likely have a strong enough jet stream to support multiple severe thunderstorms capable of producing strong wind gusts, hail, flash flooding and at least a few tornadoes.
<!-article_inarticle_2-->
AccuWeather Local StormMax™ wind gusts of hurricane force are possible with some of the strongest storms, with the exception of any twisters that touch down. At this force, property damage can occur, and large trees can be uprooted. Power outages could also occur, forecasters say.
The threat of severe weather will ramp up quickly on Wednesday from the northwest Gulf Coast region to the Ozark Mountains and the middle portion of the Mississippi Valley. A moderate risk of severe thunderstorms is likely to exist from near the Louisiana and Texas border to southern and eastern Arkansas and western Mississippi from Wednesday afternoon to Wednesday evening.
Some of the severe thunderstorms will persist through the nighttime hours on Wednesday as they move farther to the east and northeast in Mississippi, western Tennessee and western Alabama.
On Thursday, severe thunderstorms will tend to focus on some areas still recovering from last week's violent and deadly tornadoes.
<!-article_inarticle_3-->
The historic city of Selma, Alabama, was among the hardest-hit locations during last week's tornado outbreak. AccuWeather meteorologists say the city will be among those at risk for the next round of severe storms on Thursday.
"A weakening La Niña pattern, which has been occurring this month, along with some other factors over the Northern Pacific Ocean, has contributed to an uptick in the frequency of storms and storm intensity in California," AccuWeather Lead Long-Range Meteorologist Paul Pastelok said. "But, while there is a correlation between an uptick in severe weather in the Southern states and weakening La Niña in the spring, there is no direct correlation of the same for the winter season."
The recent California storms have generally weakened by the time they push into the Plains, but thunderstorms have gotten a boost in intensity from unusually persistent warmth east of the Rockies following the disruptive outbreak of Arctic air around Christmastime.
It is possible that a large sea surface temperature difference in waters north of Hawaii over the Pacific may have contributed to a stronger jet stream that has carried the severe weather potential with it across the southeastern U.S., Pastelok said.
<!-article_inarticle_4-->
While California is expected to get an extended break from the storms that have dumped torrential rain and yards of mountain snow, the southern part of the jet stream branch is likely to remain active and is likely to lead to more rounds of severe weather for the Southern states in the coming weeks.
Produced in association with AccuWeather.