"Super Bomb Survival" is an explosive game.
Offered on the Roblox platform, the game features a bomb-themed disaster survival component created by developer Polyhex.
The primary objective in played out in structured rounds. Players must survive for 2 minutes and 30 seconds, during which time various explosives and other hazards rain down from the sky and rage up from the ground.
"Super Bomb Survival" has been featured in developer-made events, such as the "2015 Egg Hunt," the "2016 Trick or Treat Countdown" and the "2019 Egg Hunt." Here are key details of the game's best features.
<!-article_inarticle_2-->
The Landscape:
When the round begins there are many types of bombs that will fall from the sky. Some bombs are more dangerous than others, and as the difficulty and danger increases, the bombs become more prevalent. In fact, some bombs have a chance to get replaced by their more powerful versions every time they fall. The main goal is to simply survive for about two minutes.
From the game's Wiki:
"Players spawn in an arena-styled map. Before entering gameplay, players have the choice to vote for three different randomized maps. They can also collect coins in the lobby that drop from the ceiling.
<!-article_inarticle_3-->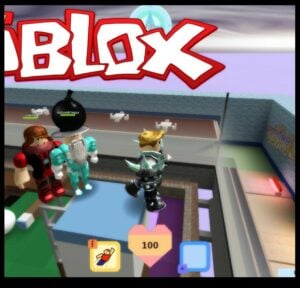 "As players play the game, they can choose to buy additional boosts, skills and perks. Buying a skill is random for the three categories: Offense, Defense and Movement; prices increase after every purchase. However, they can choose to buy the perk and/or boost of their choice, with the cost varying on the usefulness of the item.
"Perks can be bought using coins or gems. Offensive skills damage nearby players (e.g. planting a simple bomb, calling a mini-nuke from the sky). The player can choose to turn PvP (player vs. player ) off in the settings to avoid being damaged by others, but that will reduce the number of survival points the player gets."
Roblox, the game's platform, is an American videogame developer based in San Mateo, California. Founded in 2004 by David Baszucki and Erik Cassel, Roblox debuted in 2006. Its most popular games include "Murder Mystery 2," "Pet Simulator" and "Shindo Life."
The company currently has 54.1 million daily active users, according to its first-quarter 2022 financial report, which also showed the business had revenue of $537 million and net cash provided by operating activities of $156.4 million.
<!-article_inarticle_4-->
Some 28 percent of Roblox's daily active users are based in the U.S. and Canada, according to Backlinko. As of Q2 2021, Roblox has 11.8 million daily active users in Europe, according to the company's SEC filing. That equals 27.3 percent of Roblox's total worldwide user base.
Produced in association with MetaNews.